Checking engine coolant level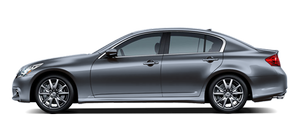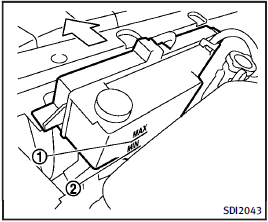 Checking engine coolant level
Check the coolant level in the reservoir when the engine is cold. If the coolant level is below MIN 2 , open the reservoir tank cap and add coolant up to the MAX 1 level. If the reservoir tank is empty, check the coolant level in the radiator when the engine is cold. If there is insufficient coolant in the radiator, fill the radiator with coolant up to the filler opening and also add it to the reservoir tank up to the MAX level 1 .
Tighten the cap securely after adding engine coolant.
If the cooling system requires coolant frequently, have it checked by an INFINITI retailer.
See also:
Precautions on distance control assist system
The system is intended to assist the driver to keep a following distance from the vehicle ahead traveling in the same lane and direction. The distance sensor is located behind the front bumper A ...
Safety
When I first picked up the test car, it beeped at me several times while I was driving on the highway. It took me a minute to figure out that it was beeping every time I drifted into another lane. ...
Precautions on IBA system
WARNING ● The IBA system is not a collision avoidance system. It is the driver's responsibility to stay alert, drive safely and be in control of the vehicle at all times. ● As there ...