Going & Stopping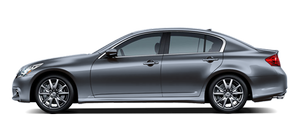 What hasn't changed is the G37's performance. Gallons of ink and multiple terabytes have been expended comparing every iota of the G37 sedan's 3.7-liter V-6 to the optional turbocharged inline-six from its archrival, the BMW 3 Series. Suffice it to say that its similar curb weight and an extra 31 pounds-feet of torque make the 335i quicker off the line despite a lower power rating (300 horsepower). But the 328-hp G37 has gobs of output in its own right, accelerating with more urgency than many competitors Ч including the Acura TL, Audi A4 and 3.6-liter Cadillac CTS. Even with all-wheel drive, which adds some 200 pounds versus a rear-wheel-drive G37, the sedan bolts away from stoplights and muscles its way up to highway speeds. Push the engine hard, and the power feels a bit peaky Ч less of it starting out and a lot more as the tachometer needle swings clockwise Ч but that's a relative sensation. In absolute terms, you'll find usable oomph even around town at 2,000 rpm.
Matched well to the engine is the G37's seven-speed automatic transmission. The seven-speed isn't as decisive as the G's earlier five-speed auto Ч it exhibits slower kickdown on the highway and occasionally hunts for the right gear Ч but its short ratios mean the G's high-revving power comes up quickly.
Stick-shift drivers will appreciate the G37's marvelous six-speed manual. With short throws and a crisp feel to the gates, it beats the 3 Series' rubbery shifter, and the clumsy ones in the A4 and CTS. The clutch's narrow friction point takes some getting used to, but accelerator response is virtually instantaneous, allowing you to hammer off easy rev-matched downshifts. Interestingly, I detected a lot more accelerator lag in the automatic G37, though it's not nearly as bad as in some cars.
See also:
INFINITI Voice Recognition Standard Mode
The following section is applicable when the Standard Mode is activated. The Standard Mode enables you to complete the desired operation by simply following the prompts that appear on the di ...
Increasing fuel economy
● Accelerate slowly and smoothly. Maintain cruising speeds with a constant accelerator position. ● Drive at moderate speeds on the highway. Driving at high speed lowers fuel economy. ...
iPod * player operation
Connecting iPod To connect an iPod to the vehicle so that the iPod can be controlled with the audio system controls and display screen, use the USB jack 1 located in the center console. Connect th ...