Good Ride, Better Handling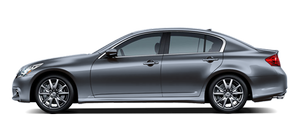 Though firmer than some in this class Ч the Mercedes C-Class, for one Ч the G37 rides comfortably, especially given our test car's stiffer rear-shock tuning, 18-inch wheels and lower-profile tires. (Cars without the Sport Package employ regular suspension tuning, 17-inch wheels and thicker tires.) The G37 is best at dealing with smaller bumps: Get on the interstate, and the suspension smoothes out the usual pitter-patter of rough lanes well. Extended sections of broken pavement can send the car into bouncing, uncontrolled motions, from which it takes a moment to resettle.
Vindication comes in the handling department, where the G37 performs as well as the venerable 3 Series. Infiniti markets the G's all-wheel drive Ч whose impossibly technical name is abbreviated ATTESA E-TS Ч as capable of providing rear-wheel-drive handling in dry conditions. It's true. Get onto a freeway cloverleaf or back-road sweeper, and the G seldom pushes wide; I found the tail as easy to slide out in our all-wheel-drive tester as it was in the last rear-drive G we evaluated.
Body roll was noticeable in the Sport trim I tested; with the base G37's suspension tuning, it's likely worse. The G doesn't present unnerving amounts of lean, though, and nor does it exhibit skittish wheel hop over midcorner bumps. The steering uses a quicker, 14.7:1 ratio in Sport models, producing the sort of marvelous precision that allows you to sense Ч and react to Ч every degree of the car's rotation. Pushed hard, the C-Class and Audi A4 plow clumsily through corners. The G37 and 3 Series can easily perform four-wheel drifts.
Some may wish for more power assist in the steering at low speeds, in the realm of the A4 or C-Class. Our test car settled in comfortably on the highway, requiring few corrections to stay on course. The tires Ч Dunlop Sport Maxx P225/50R18s Ч kicked up modest road noise, but wind noise at 60 mph was low.
Four-wheel-disc antilock brakes are standard, with massive 14-inch, four-piston front and 13.8-inch, two-piston rear calipers on models with the Sport Package. They do the trick: Our test car's brake pedal served up strong, linear deceleration. Driving my usual handling loop, I noticed little brake fade.
See also:
Backing up on a steep uphill
Backing up on a steep uphill When backing up the vehicle up a hill, the distance guide lines and the vehicle width guide lines are shown closer than the actual distance. For example, the display sh ...
General maintenance
General maintenance includes those items which should be checked during normal day-to-day operation. They are essential for proper vehicle operation. It is your responsibility to perform these procedu ...
Conventional (fixed speed) cruise control mode
This mode allows driving at a speed between 25 to 89 MPH (40 to 144 km/h) without keeping your foot on the accelerator pedal. WARNING Х In the conventional (fixed speed) cruise control mode, a warni ...