Good Ride, Better Handling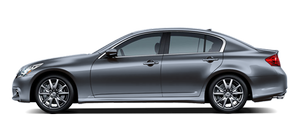 Though firmer than some in this class Ч the Mercedes C-Class, for one Ч the G37 rides comfortably, especially given our test car's stiffer rear-shock tuning, 18-inch wheels and lower-profile tires. (Cars without the Sport Package employ regular suspension tuning, 17-inch wheels and thicker tires.) The G37 is best at dealing with smaller bumps: Get on the interstate, and the suspension smoothes out the usual pitter-patter of rough lanes well. Extended sections of broken pavement can send the car into bouncing, uncontrolled motions, from which it takes a moment to resettle.
Vindication comes in the handling department, where the G37 performs as well as the venerable 3 Series. Infiniti markets the G's all-wheel drive Ч whose impossibly technical name is abbreviated ATTESA E-TS Ч as capable of providing rear-wheel-drive handling in dry conditions. It's true. Get onto a freeway cloverleaf or back-road sweeper, and the G seldom pushes wide; I found the tail as easy to slide out in our all-wheel-drive tester as it was in the last rear-drive G we evaluated.
Body roll was noticeable in the Sport trim I tested; with the base G37's suspension tuning, it's likely worse. The G doesn't present unnerving amounts of lean, though, and nor does it exhibit skittish wheel hop over midcorner bumps. The steering uses a quicker, 14.7:1 ratio in Sport models, producing the sort of marvelous precision that allows you to sense Ч and react to Ч every degree of the car's rotation. Pushed hard, the C-Class and Audi A4 plow clumsily through corners. The G37 and 3 Series can easily perform four-wheel drifts.
Some may wish for more power assist in the steering at low speeds, in the realm of the A4 or C-Class. Our test car settled in comfortably on the highway, requiring few corrections to stay on course. The tires Ч Dunlop Sport Maxx P225/50R18s Ч kicked up modest road noise, but wind noise at 60 mph was low.
Four-wheel-disc antilock brakes are standard, with massive 14-inch, four-piston front and 13.8-inch, two-piston rear calipers on models with the Sport Package. They do the trick: Our test car's brake pedal served up strong, linear deceleration. Driving my usual handling loop, I noticed little brake fade.
See also:
Antenna
Window antenna The antenna pattern is printed inside the rear window. CAUTION ● Do not place metalized film near the rear window glass or attach any metal parts to it. This may cause poor r ...
Xenon headlights
WARNING HIGH VOLTAGEХ When xenon headlights are on, they produce a high voltage. To prevent an electric shock, never attempt to modify or disassemble. Always have your xenon headlights replaced at a ...
Brake assist (if so equipped)
When the force applied to the brake pedal exceeds a certain level, the brake assist is activated generating greater braking force than a conventional brake booster even with light pedal force. WARNIN ...