Replacing wheels and tires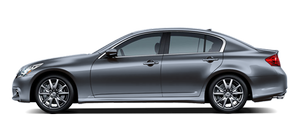 When replacing a tire, use the same size, tread design, speed rating and load carrying capacity as originally equipped. (See "Specifications" for recommended types and sizes of tires and wheels.)
WARNING
• The use of tires other than those recommended or the mixed use of tires of different brands, construction (bias, bias-belted or radial), or tread patterns can adversely affect the ride, braking, handling, ground clearance, body-to-tire clearance, tire chain clearance, speedometer calibration, headlight aim and bumper height. Some of these effects may lead to accidents and could result in serious personal injury.
• If the wheels are changed for any reason, always replace with wheels which have the same off-set dimension.
Wheels of a different off-set could cause premature tire wear, degrade vehicle handling characteristics and/or interference with the brake discs/drums. Such interference can lead to decreased braking efficiency and/or early brake pad/shoe wear. See "Wheels and tires" of this manual for wheel off-set dimensions.
• When a spare tire is mounted or a wheel is replaced, the TPMS will not function and the low tire pressure warning light will flash for approximately 1 minute.
The light will remain on after 1 minute.
Contact your INFINITI retailer as soon as possible for tire replacement and/or system resetting.
• Replacing tires with those not originally specified by INFINITI could affect the proper operation of the TPMS.
• Do not install a damaged or deformed wheel or tire even if it has been repaired.
Such wheels or tires could have structural damage and could fail without warning.
• The use of retread tire is not recommended.
• For additional information regarding tires, refer to "Important Tire Safety Information" (US) or "Tire Safety Information" (Canada) in the Warranty Information Booklet.
See also:
Bluetooth® Audio player (models with navigation system)
• Some Bluetooth® audio devices may not be recognized by the in-vehicle audio system. • It is necessary to set up the wireless connection between a compatible Bluetooth ® audio device and the in-vehi ...
How to park with predicted course lines
WARNING • Always turn and check that it is safe to park your car before backing up. Always back up slowly.• Use the displayed lines as a reference.The lines are highly affected by the number of occup ...
Air cleaner
To remove the filter, release the lock pins 1 and pull the unit upward 2 . The filter element should not be cleaned and reused. Replace it according to the maintenance intervals. See "INFINI ...