When traveling or registering your vehicle in another country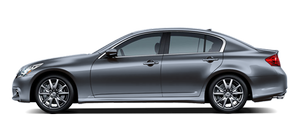 If you plan to travel in another country, you should first find out if the fuel available is suitable for your vehicle's engine.
Using fuel with too low an octane rating may cause engine damage. All gasoline vehicles must be operated with unleaded gasoline. Therefore, avoid taking your vehicle to areas where appropriate fuel is not available.
When transferring the registration of your vehicle to another country, state, province or district, it may be necessary to modify the vehicle to meet local laws and regulations.
The laws and regulations for motor vehicle emission control and safety standards vary according to the country, state, province or district; therefore, vehicle specifications may differ.
When any vehicle is to be taken into another country, state, province or district and registered, its modifications, transportation, and registration are the responsibility of the user. INFINITI is not responsible for any inconvenience that may result.
See also:
Most common factors contributing to vehicle corrosion
• The accumulation of moisture-retaining dirt and debris in body panel sections, cavities, and other areas. • Damage to paint and other protective coatings caused by gravel and stone chips or minor t ...
Overview
The Infiniti G37 Coupé offers dramatic performance in a thoroughly seductive shape. Although sharing a great deal of hardware with the Infiniti G37 Sedan, the Coupé is designed to ap ...
How Does It Drive?
The IPL's 18 extra hp give it only the slimmest straight-line edge, with the car posting a 0-to-60-mph time of 5.4 seconds, actually 0.1 second behind the best time we've seen from a G37S coupe. B ...