When traveling or registering your vehicle in another country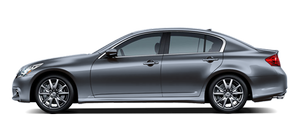 If you plan to travel in another country, you should first find out if the fuel available is suitable for your vehicle's engine.
Using fuel with too low an octane rating may cause engine damage. All gasoline vehicles must be operated with unleaded gasoline. Therefore, avoid taking your vehicle to areas where appropriate fuel is not available.
When transferring the registration of your vehicle to another country, state, province or district, it may be necessary to modify the vehicle to meet local laws and regulations.
The laws and regulations for motor vehicle emission control and safety standards vary according to the country, state, province or district; therefore, vehicle specifications may differ.
When any vehicle is to be taken into another country, state, province or district and registered, its modifications, transportation, and registration are the responsibility of the user. INFINITI is not responsible for any inconvenience that may result.
See also:
2010 Infiniti G37 Review
If you're shopping $40,000 sport sedans, the Infiniti G37 is required driving: It is smartly appointed, well-equipped, reliable and as much of a hoot to drive as the BMW 3 Series. The BMW pedestal ...
Camera settings (if so equipped)
The "CAMERA" screen will appear when selecting the "Camera" key with the INFINITI controller and pushing the ENTER button. For the details about the camera system operation, see "RearView monitor". ...
Music Box® (if so equipped)
The Music Box® audio system can store songs from CD being played. The system has a 9.3 gigabyte (GB) storage capacity. The following CDs can be recorded in the Music Box® audio system. υ ...