Coupe (INFINITI Performance Line, Aerodynamic Package models)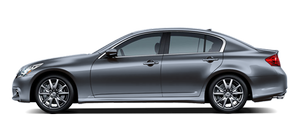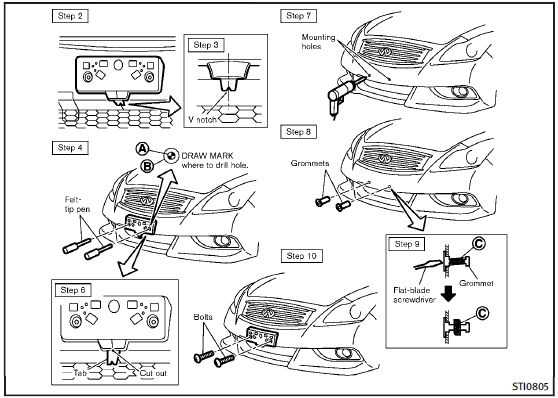 Coupe (INFINITI Performance Line, Aerodynamic Package models)
1. Park the vehicle on flat, level ground.
2. Temporarily fit the license plate bracket on the center of the front bumper fascia.
3. For horizontal position adjustment, place and hold the underside tab of the license plate bracket on the front bumper fascia to align the tab's V notch with the edge of a bead on the upper side of front bumper fascia.
4. Hold the license plate bracket and mark the points A on the bumper facia through the center of the holes B with a felt-tip pen.
5. Remove the license plate bracket.
6. Detach the license plate bracket and cut the underside tab by using a cutter.
7. Carefully drill two shallow pilot holes A using a 0.39 in (10 mm) drill bit at the marked locations. (Be sure that the drill only goes through the fascia, or damage to the nut may occur.)
8. Insert Grommets into the hole on the front bumper fascia.
9. Insert a flat-blade screwdriver into the grommet hole to add a 908 turn onto the part C .
10.Install the license plate bracket with the bolts.
11.Install the license plate with bolts that are not longer than 0.55 in (14 mm).
See also:
Increasing fuel economy
► Accelerate slowly and smoothly. Maintain cruising speeds with a constant accelerator position. ► Drive at moderate speeds on the highway. ► Avoid unnecessary stopping and b ...
Engine cooling system
The engine cooling system is filled at the factory with a pre-diluted mixture of 50% Genuine NISSAN Long Life Antifreeze/Coolant (blue) and 50% water to provide year-round anti-freeze and coolant prot ...
Tire chains
Use of tire chains may be prohibited according to location. Check the local laws before installing tire chains. When installing tire chains, make sure they are the proper size for the tires on ...