Flat towing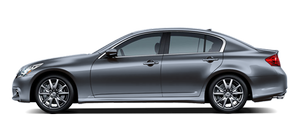 Towing your vehicle with all four wheels on the ground is sometimes called flat towing.
This method is sometimes used when towing a vehicle behind a recreational vehicle, such as a motor home.
CAUTION
• Failure to follow these guidelines can result in severe transmission damage.
• Whenever flat towing your vehicle, always tow forward, never backward.
• DO NOT tow any automatic transmission vehicle with all four wheels on the ground (flat towing). Doing so WILL DAMAGE internal transmission parts due to lack of transmission lubrication.
• DO NOT tow an All-Wheel Drive (AWD) vehicle with any of the wheels on the ground. Doing so may cause serious and expensive damage to the powertrain.
• For emergency towing procedures refer to "Towing recommended by INFINITI" of this manual.
See also:
Brake precautions
Vacuum assisted brakes The brake booster aids braking by using engine vacuum. If the engine stops, you can stop the vehicle by depressing the brake pedal. However, greater foot pressure on the brake ...
Small children
Children that are over 1 year old and weigh at least 20 lbs (9 kg) should remain in a rear-facing child restraint as long as possible up to the height or weight limit of the child restraint. Children ...
Passenger compartment
1. Cargo light (P.2-68) 2. Cup holders (3rd row seat) (P.2-55) 3. Rear ventilators (P.4-32) 4. Coat hooks (P.2-59) 5. Rear personal lights (P.2-66) 6. Tray (P.2-58) — USB memory operatio ...