Small children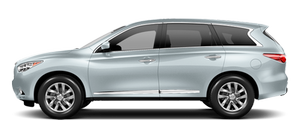 Children that are over 1 year old and weigh at least 20 lbs (9 kg) should remain in a rear-facing child restraint as long as possible up to the height or weight limit of the child restraint. Children who outgrow the height or weight limit of the rearfacing child restraint and are at least 1 year old should be secured in a forward-facing child restraint with a harness. Refer to the manufacturer's instructions for minimum and maximum weight and height recommendations. INFINITI recommends that small children be placed in child restraints that comply with Federal Motor Vehicle Safety Standards or Canadian Motor Vehicle Safety Standards. You should choose a child restraint that fits your vehicle and always follow the manufacturer's instructions for installation and use.
See also:
Auto Download
When this item is activated, the phonebook of a hands-free phone is automatically downloaded at the same time that the hands-free phone is connected. When this item is active, the system will automat ...
Sonar system (if so equipped)
Sonar system (if so equipped) WARNING • The sonar system is a convenience but it is not a substitute for proper parking.Always look around and check that it is safe to do so before parking. Always ...
Infiniti G in the Market
Bolstered by the addition of the G25, the G has seen a sales surge uncommon this late in a car's life cycle: It's edged out the C-Class and come within striking distance of the 3 Series — the segm ...