Engine coolant temperature gauge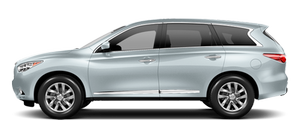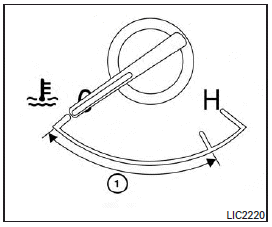 The gauge indicates the engine coolant temperature.
The engine coolant temperature is within the normal range 1 when the gauge needle points within the zone shown in the illustration.
The engine coolant temperature varies with the outside air temperature and driving conditions.
CAUTION
If the gauge indicates coolant temperature near the hot (H) end of the normal range, reduce vehicle speed to decrease temperature. If the gauge is over the normal range, stop the vehicle as soon as safely possible. If the engine is overheated, continued operation of the vehicle may seriously damage the engine.
See "If your vehicle overheats" in the "In case of emergency"section for immediate action required.
See also:
How to use remote keyless entry system
When you lock or unlock the doors or the trunk lid, the hazard indicator will flash and the horn (or the outside chime) will sound as a confirmation. For details, see "Setting hazard indicator and h ...
Heated steering wheel (if so equipped)
The heated steering wheel system is designed to operate only when the surface temperature of the steering wheel is below approximately 68°F (20°C). Push the heated steering wheel switch to warm t ...
Manual operation
Fan speed control: Turn the "" fan speed control dial to manually control the fan speed. Push the "AUTO" button to return to automatic control of the fan speed. Air recirculation: Push the intak ...