Seating & Cargo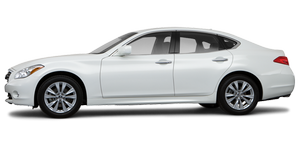 Four of the M's five seats offer ample legroom and headroom, but the bulky floor hump in back means a fifth passenger has to share foot room. The front seats have standard 10-way power adjustments, and there's plenty of range for taller drivers. After you park, the steering wheel automatically powers upward to ease exit and entry — and does so much faster than in some of the more cantankerous steering columns in the M's peers.
Maximum cabin volume is 105.2 cubic feet, and trunk volume is 14.9 cubic feet. Like most cars in this class, the M lacks a folding backseat. There's a center pass-thru for skis or other long items, but it's fairly small. (If you want a car with a folding seat in this segment, try the E-Class or XF.)
Cabin & Cargo Compared (cu. ft.)
Cabin volume Trunk volume
Hyundai Genesis 109.4 15.9
Lexus GS 109.1 12.7
Lincoln MKS* 105.8 18.7
Infiniti M 105.2** 14.9
Cadillac STS* 102.9 13.8
BMW 5 Series 99.1 14.0
Acura RL 99.1 13.1
Jaguar XF 99.0 17.7
Audi A6 98.0 15.9
Volvo S80 98.0 14.9
Mercedes-Benz E-Class 97.2 15.9
*Does not include a standard moonroof. Volumes for other cars are listed with moonroofs.
**103.1 cubic feet with Premium Package.
All data for 2009 models except 2008 Audi A6.
See also:
Exterior
Many of Infiniti's designs are polarizing, falling into either the love-it or the hate-it category. Take the FX and EX, for example. I'm not a fan of the bulbous, jowled FX, but my test EX — in go ...
Pulling a stuck vehicle
If your vehicle is stuck in sand, snow, mud, etc., use a tow strap or other device designed specifically for vehicle recovery. Always follow the manufacturer's instructions for the recovery device. ...
Vehicle identification number (chassis number)
Vehicle identification number (chassis number) The number is stamped as shown in the engine compartment. ...