Fuel gauge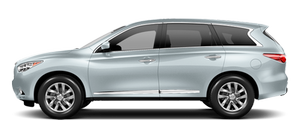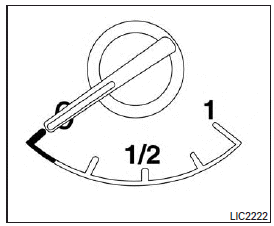 The gauge indicates the approximate fuel level in the tank.
The gauge may move slightly during braking, turning, acceleration, or going up or down hills.
The gauge needle returns to 0 (Empty) after the ignition switch is placed in the OFF position.
The low fuel warning light comes on when the amount of fuel in the tank is getting low.
Refill the fuel tank before the gauge registers 0 (Empty).
The

indicates that the fuel-filler door is located on the driver's side of the vehicle.
CAUTION
● If the vehicle runs out of fuel, the

Malfunction Indicator Light (MIL) may come on. Refuel as soon as possible.
After a few driving trips. the

light should turn off. If the light remains on after a few driving trips, have the vehicle inspected by a INFINITI retailer.
● For additional information, see "Malfunction Indicator Light (MIL)" later in this section..
See also:
Zone variation change procedure
The difference between magnetic north and geographical north is known as variance. In some areas, this difference can sometimes be great enough to cause false compass readings. Follow these instructi ...
Automatic cancellation
A chime sounds under the following conditions and the control is automatically canceled. ● When the vehicle ahead is not detected and your vehicle is traveling below the speed of 15 MPH (24 k ...
Outside mirrors
Outside mirrors WARNING Objects viewed in the outside mirror on the passenger side are closer than they appear. Be careful when moving to the right. Using only this mirror could cause an accident ...