Vehicle security system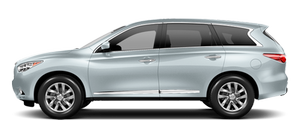 The vehicle security system provides visual and audible alarm signals if someone opens the doors, liftgate or hood when the system is armed.
It is not, however, a motion detection type system that activates when a vehicle is moved or when a vibration occurs.
The system helps deter vehicle theft but cannot prevent it, nor can it prevent the theft of interior or exterior vehicle components in all situations. Always secure your vehicle even if parking for a brief period. Never leave your Intelligent Key in the vehicle, and always lock the vehicle when unattended. Be aware of your surroundings, and park in secure, well-lit areas whenever possible.
Many devices offering additional protection, such as component locks, identification markers, and tracking systems, are available at auto supply stores and specialty shops. Your INFINITI retailer may also offer such equipment. Check with your insurance company to see if you may be eligible for discounts for various theft protection features.
See also:
Regulatory information
FCC Regulatory information ► CAUTION: To maintain compliance with FCC's RF exposure guidelines, use only the supplied antenna. Unauthorized antenna, modification, or attachments could d ...
System operation
The automatic drive positioner system will not work or will stop operating under the following conditions: ► When the vehicle speed is above 4 MPH (7 km/h). ► When the adjusting s ...
Conditions the remote start will not work
The remote start will not operate if any of the following conditions are present: ● The ignition switch is placed in the ON position. ● The hood is not securely closed. ● Th ...