It handles better.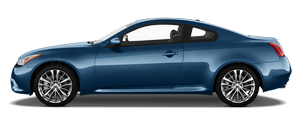 Tucked into the IPL G Coupe's wheel wells are large 19-inch aluminum alloy wheels shod in grippy 225-width tires up front and 245-width tires out back. Twenty-percent stiffer springs suspend the vehicle over these upsized rollers. Stiffer springs usually beget a stiffer ride, but thanks to tweaks that have been made to the IPL G Coupe's dampers, the sports coupe doesn't feel dramatically more bone-jarring over low-speed bumps and cracks than a standard G37 with the Sport package. You may recall that we Car Tech editors were of split minds as to whether the standard Sport package's ride is too harsh to begin with, but at least in this case the rougher ride matches the IPL's racy character.
While the IPL doesn't feel much different from the standard G37 while moseying around town. I discovered on a windy road that its handling limits feel noticeably higher than more mundane Gs. Moreover, those limits are approached, met, and -- if you're not careful -- exceeded in a much more predictable and controlled manner than the standard G Coupe as well.
Usually when a performance car features upgraded bodywork, it means that the automaker has slapped on a new front bumper, rear diffuser, side skirts, and sometimes a spoiler to make the car in question look more aggressive. This is exactly what Infiniti did with the IPL G Coupe -- spoiler and all. However, in this case the new body work actually serves an aerodynamic purpose, creating a zero-lift condition by helping to control how air moves around the vehicle at high speeds.
See also:
Seat synchronization function
The seat synchronization function automatically adjusts the positions of the steering wheel and outside mirrors when the seat is adjusted using the power seat switches. However, the steering wheel an ...
Intelligent Key
Intelligent Key 1. Intelligent Keys (2 sets)2. Mechanical keys (inside the Keys) (2 sets)3. Key number plate (1 set) Your vehicle can only be driven with the Intelligent Keys which are registered ...
How to use the SETTING button
When the SETTING button is pressed, the Settings screen will appear on the display. You can select and/or adjust several functions, features and modes that are available for your vehicle. Use the IN ...