Confirming memory storage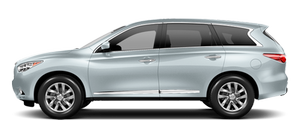 ● Place the ignition switch in the ON position and push the SET switch. If the main memory has not been stored, the indicator light will come on for approximately 0.5 seconds.
When the memory has stored the position, the indicator light will stay on for approximately 5 seconds.
● If the battery cable is disconnected, or if the fuse opens, the memory storage function will be canceled and must be restarted before a stored memory position can be set again.
Drive the vehicle over 25 MPH (40 km/h) to restart the memory storage function. You can also restart the memory storage function using the following procedure.
1. Connect the battery cable or replace the fuse.
2. Open and close the driver's door more than 2 times with the ignition switch in the LOCK position.
Once the memory storage function has been restarted, you can store a memory position.
See "Memory storage function" in this section.
See also:
Opening and closing windows with the mechanical key
The driver's door key operation also allows you to open and close all door windows. To open the windows, turn the driver's door key cylinder to the rear of the vehicle for longer than 1 second ...
Cargo & Towing
Despite a high load-in height and a protruding bumper you'll have to lift items over, the cargo opening isn't as bad as it could be. Other big luxury SUVs, like the Lexus LX 570 and some Land Rove ...
Sonar indicator
Sonar indicator *1 Rear view monitor display*A Corner sonar indicator*B Center sonar indicator With the "Sonar Display" key ON in the "Sonar" settings, when the corner/center sonar detects obstacl ...