Confirming memory storage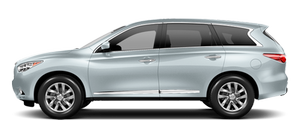 ● Place the ignition switch in the ON position and push the SET switch. If the main memory has not been stored, the indicator light will come on for approximately 0.5 seconds.
When the memory has stored the position, the indicator light will stay on for approximately 5 seconds.
● If the battery cable is disconnected, or if the fuse opens, the memory storage function will be canceled and must be restarted before a stored memory position can be set again.
Drive the vehicle over 25 MPH (40 km/h) to restart the memory storage function. You can also restart the memory storage function using the following procedure.
1. Connect the battery cable or replace the fuse.
2. Open and close the driver's door more than 2 times with the ignition switch in the LOCK position.
Once the memory storage function has been restarted, you can store a memory position.
See "Memory storage function" in this section.
See also:
2010 Infiniti G37 Review
If you're shopping $40,000 sport sedans, the Infiniti G37 is required driving: It is smartly appointed, well-equipped, reliable and as much of a hoot to drive as the BMW 3 Series. The BMW pedestal ...
iPod® PLAYER OPERATION (if so equipped)
Connecting iPod® Open the console lid and connect the iPod® cable to the USB connector. If compatible, the battery of the iPod® is charged while the connection to the vehicle. Depending on the versi ...
Draining of coolant water
If the vehicle is to be left outside without antifreeze, drain the cooling system, including the engine block. Refill before operating the vehicle. For details, see "Changing engine coolant" in the ...