Digital Versatile Disc (DVD) Player Operation (models with Navigation System)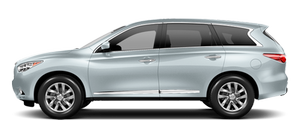 Precautions
Start the engine when using the DVD entertainment system.
Movies will not be shown on the front display while the vehicle is in any drive position to reduce driver distraction. Audio is available when a movie is played. To view movies on the front display, stop the vehicle in a safe location, move the shift selector to the P (Park) position and apply the parking brake.
WARNING
● The driver must not attempt to operate the DVD system or wear the headphones while the vehicle is in motion so that full attention may be given to vehicle operation.
● Do not attempt to modify the system to display a movie on the front screen while the vehicle is being driven. Doing so may distract the driver and may cause a collision and serious personal injury or death.
CAUTION
● Only operate the DVD while the vehicle engine is running. Operating the DVD for extended periods of time with the engine OFF can discharge the vehicle battery.
● Do not allow the system to get wet.
Excessive moisture such as spilled liquids may cause the system to malfunction.
● While playing VIDEO-CD media, this DVD player does not guarantee complete functionality of all VIDEO-CD formats.
Display settings
To adjust the front display mode, press the SETTING button while the DVD is playing. Select the "Others" key with the INFINITI controller or with the touchscreen, then select the "Display" key.
To adjust the display ON/OFF, brightness, tint, color and contrast, select the "Display Adjustment" key with the INFINITI controller or with the touchscreen and then select the key of the setting you wish to adjust. After the desired changes have been made, press the BACK button to save the settings.
See also:
Interior
While the EX35 was as beautiful on the inside as it was on the outside, the five-seater still lacked the size and space that a family of four needs. The interior was beautifully appointed with but ...
Overview
The Infiniti EX30d introduces a lower CO2 V6 diesel engine, first-in-class safety technology and a new chapter in the European ambitions of Japan's youngest luxury performance car-maker. What doesn't ...
Towing a trailer
WARNING Overloading or improper loading of a trailer and its cargo can adversely affect vehicle handling, braking and performance and may lead to accidents. CAUTION ● Do not tow a trailer ...