Digital Versatile Disc (DVD) Player Operation (models with Navigation System)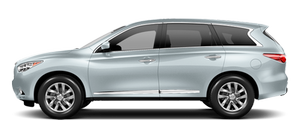 Precautions
Start the engine when using the DVD entertainment system.
Movies will not be shown on the front display while the vehicle is in any drive position to reduce driver distraction. Audio is available when a movie is played. To view movies on the front display, stop the vehicle in a safe location, move the shift selector to the P (Park) position and apply the parking brake.
WARNING
● The driver must not attempt to operate the DVD system or wear the headphones while the vehicle is in motion so that full attention may be given to vehicle operation.
● Do not attempt to modify the system to display a movie on the front screen while the vehicle is being driven. Doing so may distract the driver and may cause a collision and serious personal injury or death.
CAUTION
● Only operate the DVD while the vehicle engine is running. Operating the DVD for extended periods of time with the engine OFF can discharge the vehicle battery.
● Do not allow the system to get wet.
Excessive moisture such as spilled liquids may cause the system to malfunction.
● While playing VIDEO-CD media, this DVD player does not guarantee complete functionality of all VIDEO-CD formats.
Display settings
To adjust the front display mode, press the SETTING button while the DVD is playing. Select the "Others" key with the INFINITI controller or with the touchscreen, then select the "Display" key.
To adjust the display ON/OFF, brightness, tint, color and contrast, select the "Display Adjustment" key with the INFINITI controller or with the touchscreen and then select the key of the setting you wish to adjust. After the desired changes have been made, press the BACK button to save the settings.
See also:
F.M.V.S.S./C.M.V.S.S. certification label
F.M.V.S.S./C.M.V.S.S. certification label The Federal/Canadian Motor Vehicle Safety Standards (F.M.V.S.S./C.M.V.S.S.) certification label is affixed as shown. This label contains valuable vehicle i ...
Vehicle Dynamic Control (VDC) system
The Vehicle Dynamic Control (VDC) system uses various sensors to monitor driver inputs and vehicle motion. Under certain driving conditions, the VDC system helps to perform the following functions. • ...
Emergency engine shut off
To shut off the engine in an emergency situation while driving, perform the following procedure: ► Rapidly push the push-button ignition switch 3 consecutive times in less than 1.5 sec ...