PREVIEW FUNCTION (for Intelligent Cruise Control system equipped models)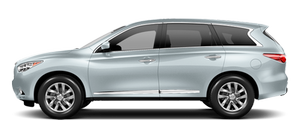 The ICC system with the preview function identifies the need to apply emergency braking by sensing the vehicle ahead in the same lane and the distance to the vehicle ahead and relative speed from it, it applies the brake pre-pressure before the driver depresses the brake pedal and helps improve brake response by reducing pedal free play.
For more details, see "Brake assist" in this section.
See also:
Air conditioner system refrigerant and oil recommendations
The air conditioner system in your INFINITI vehicle must be charged with the refrigerant HFC-134a (R-134a) and the oil, NISSAN A/C system oil DH-PS or the exact equivalents. CAUTION The use of any ...
Measurement of weights
Secure loose items to prevent weight shifts that could affect the balance of your vehicle. When the vehicle is loaded, drive to a scale and weigh the front and the rear wheels separately to ...
Self-test feature
The ABS includes electronic sensors, electric pumps, hydraulic solenoids and a computer. The computer has a built-in diagnostic feature that tests the system each time you start the engine and move th ...