Increasing fuel economy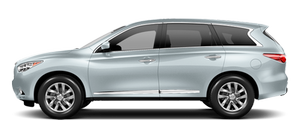 ● Accelerate slowly and smoothly. Maintain cruising speeds with a constant accelerator position.
● Drive at moderate speeds on the highway.
Driving at high speed lowers fuel economy.
● Avoid unnecessary stopping and braking.
Maintain a safe distance behind other vehicles.
● Use a proper gear range which suits road conditions. On level roads, shift into high gear as soon as possible.
● Avoid unnecessary engine idling.
● Keep your engine tuned up.
● Follow the recommended periodic maintenance schedule.
● Keep the tires inflated to the correct pressure.
Low tire pressure increases tire wear and lowers fuel economy.
● Keep the front wheels in correct alignment.
Improper alignment increases tire wear and lowers fuel economy.
● Air conditioner operation lowers fuel economy. Use the air conditioner only when necessary.
● When cruising at highway speeds, it is more economical to use the air conditioner and leave the windows closed to reduce drag.
See also:
3rd row seats
The 3rd row power folding seat controls are located behind the 2nd row seat (both the driver's and passenger's side) on the 3rd row cup holder console 1 . There are also controls located o ...
Remote Engine Start (if so equipped)
The button will be on the INFINITI Intelligent Key if the vehicle has remote engine start. This feature allows the engine to start from outside the vehicle. The following features may be af ...
Cleaning
If your windshield is not clear after using the windshield washer or if a wiper blade chatters when running, wax or other material may be on the blade or windshield. Clean the outside of the windsh ...