Family-friendly features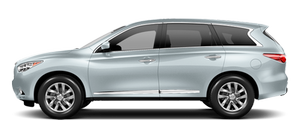 The JX is all about having your cake and eating it, too. Want family-friendly features in your car but don't want to sacrifice style or drivability? The JX mostly accomplishes both. The interior of the JX I drove was dipped in a decadent java-colored leather, another input from Barbara, that would definitely wear well regardless of how many kids and their grimy shoes you load into it.
The second-row seat can slide forward for access to the third row even with a child seat installed in it (although you have to remove your baby from the seat first). While I love the thoughtfulness that went into this feature, it's only on the passenger side of the second-row bench. That may work well for some families, but I would prefer the flexibility of optional captain's chairs in the second row. Not only do they offer a great buffer zone between fighting siblings, they're better at accommodating Grandma and Grandpa. Seating my 70-year-old parents in captain's chairs just seems more grown-up and luxurious than making them share a bench seat like children.
With the sliding second row pushed all the way back, there's more legroom than in both the MDX and the Q7, though roughly the same as the MKT. I could stretch my legs out comfortably and still had space to spare. The JX also trumps its two main competitors in cargo space with 15.8 cubic feet behind the third row and 76.4 cubic feet of cargo space with all the rear seats folded. The MKT has 17.9 cubic feet behind the third row, but its maximum cargo space of 75.9 cubic feet maximum is edged out by the JX35.
Kids in the back can stay thoroughly entertained on long road trips with dual 7-inch DVD screens built into the front-seat head restraints so as not to obstruct the driver's rear view. In the McNamara family, Riley stays content watching "Star Wars: The Clone Wars," while Georgia rolls her eyes Ч ugh, boys Ч then turns on a Barbie movie. Sean and Barbara relax up front in peace and quiet, or they tune in to their favorite XM station.
Third-row passengers weren't forgotten in the JX. They have their own air vents to cool off quickly in the summer heat, and an optional panoramic moonroof over the second- and third-row seats lets the light in, keeping the third row from feeling like a dungeon. Here again, the JX boasts more legroom than in the MDX and Q7, but less than the MKT. Conversely, third-row headroom is more than a half inch less than in the Acura and Audi, but a good 1.5 inches greater than the MKT's third row.
See also:
Engine and powertrain
Infiniti's latest 3.7-litre V6 is a potent, high revving, 24-valve twin cam unit producing 235 kW at 7,000 rpm (320 PS) and an impressive 360 Nm of torque at 5,200 rpm. Constructed from lightwei ...
Read first Ч then drive safely
Before driving your vehicle, read your OwnerТs Manual carefully. This will ensure familiarity with controls and maintenance requirements, assisting you in the safe operation of your vehicle. ...
Safety
When I first picked up the test car, it beeped at me several times while I was driving on the highway. It took me a minute to figure out that it was beeping every time I drifted into another lane. ...