2013 Infiniti JX35 Review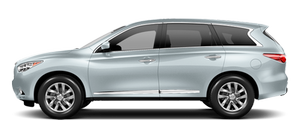 Don't you ever wish car companies would get with the program and hire a real expert? Not some stuffy pinstriped suit but rather a parent, like yourself, who has the same automotive needs, wants and wishes? Someone who knows what a pain it is to get into a third-row seat if you have child-safety seats installed in the second row?
If you're looking for a car that solves many family-car woes, check out the new 2013 Infiniti JX35, whose product manager is just like you — a busy parent.
While I'm grateful for product manager Sean McNamara's input into the JX35, the real heroes behind the scenes are his 9-year-old daughter Georgia, 11-year-old son Riley and, especially, his wife of 19 years, Barbara.
Because Georgia and Riley are still in booster seats (reluctantly), Sean and Barbara know what a pain it is to access the third row. This sentiment was echoed loudly during Infiniti's in-house study of how other busy families use their cars. The result? A sleek new crossover in which your kids and your carpool can still get into the third row, even if you have child seats installed in the second row.
See also:
Luggage hooks
WARNING ► Always make sure that the cargo is properly secured. Use the suitable ropes and hooks. ► Unsecured cargo can become dangerous in an accident or sudden stop. ► ...
Personal lights (Sedan)
Rear Push the button as illustrated to turn the light on or off. ...
Control buttons
1) PHONE SEND button ...