Safety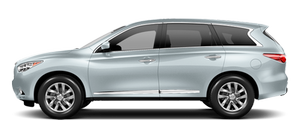 Crash tests have yet to be conducted on the all-new JX. As required of all new cars starting with the 2012 model year, the Infiniti JX has standard antilock brakes, an electronic stability system and traction control.
There are two sets of Latch connectors in the JX's outboard second-row seats. Sean fought for the third row's top-tether anchor, just in case you wanted to install a child-safety seat with the seat belt back there. I don't think he should have stopped there, however. The Q7 has four total Latch systems, two of which are in the third row.
The JX is chockfull of fascinating and advanced active-safety features, but you'll have to pay extra for them, and in some cases, "opt into" them every single time you drive, thanks to Infiniti's lawyers. I suspect many people will miss out on some of the safety features in this car simply by forgetting to opt in by pressing the button on the steering wheel every time they start the car.
Infiniti was the first to introduce the very helpful Around View Monitor, which uses several cameras around the vehicle to give you a complete 360-degree view around the immediate vicinity of the car. The JX adds to the feature Moving Object Detection. If someone, or something, is moving around the car — say, a child or the neighbor's cat that uses your garden as a litter box — visual and audible warnings will let you know where the moving object is so you can wait for it to clear before you move.
Infiniti's backup collision intervention system on the JX uses sonar and radar to watch 180 degrees behind your car. When you're backing out of a parking spot, the JX will scan for any other cars that might be driving at 15 mph or slower into your path of travel. It will let you know with visual and audible warnings, and if you don't respond, the gas pedal will press back against your foot to tell you to stop. If you still don't stop, it will stop for you, giving you a second to catch up and put your foot on the brake. As Sean says, "this system isn't there to let you be a total idiot; it's there to allow you to just be human." Nicely put, Sean.
Other optional safety features are lane departure warning and prevention system that gently beeps at you when it sees you're starting to veer out of your lane, and then gently corrects your steering to keep you in your own lane. The blind spot warning and intervention system watches your blind spots, gives you a visual warning if there's another car in your blind spot, and adds an audible warning if you activate the turn signal. If you ignore the warning and try to change lanes anyhow, it will give you a gentle correction to keep you from veering into another car.
See also:
Adjustable headrest
WARNING The adjustable headrests supplement the other vehicle safety systems. They may provide additional protection against injury in certain rear end collisions. Adjust the headrests properly, as ...
Three-way catalyst
The three-way catalyst is an emission control device installed in the exhaust system. Exhaust gases in the three-way catalyst are burned at high temperatures to help reduce pollutants. WARNI ...
Warning light and display
Condition A: Under the following conditions, the Intelligent Cruise Control system is automatically canceled. The chime will sound and the system will not be able to be set. ● When the ...