2010 Infiniti FX35 Review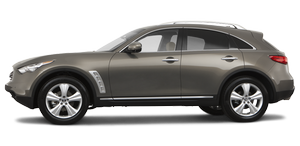 During a recent kid-free weekend, I happened to be test driving the 2010 Infiniti FX35. For the grown-ups-only weekend, I decided to do a trek from Denver to Steamboat Springs, Colo. As much as I was hoping for a break from my normal life as mom - always playing catch-up - the FX35 kept me in catch-up mode.
A lag in the FX35's acceleration combined with super-soft brakes made me feel like I had to read the mind of the driver in front of me and mentally drive two seconds ahead of the game. This proved to be as draining as cleaning my house with my daughters on my heels messing it up again. The FX35's steering felt heavy and unresponsive, and its stiff sports-car-like ride made day-to-day errands more of a chore than they already are.
Filling up the thirsty FX also grew tiresome. With an EPA-estimated fuel economy 16/21 mpg city/ highway and a premium fuel requirement, filling up this baby was more of an expensive chore than I had anticipated.
In the real world, the worst consequence to my constant game of catch-up is a laundry room full off dirty clothes and no milk in the fridge for breakfast. In the Infiniti, the stakes were a little pricier. Jeez, I need a nap just reflecting on it.
See also:
Automatic operation
Cooling and/or dehumidified heating (AUTO): This mode may be used all year round. The system works automatically to control the inside temperature, air flow distribution and fan speed after the prefe ...
Music Box® (if so equipped)
Recording: • Note that data that is lost and not stored to the hard drive/flash memory due to system damage, improper operation or malfunction is not under warranty. • Vehicle owners are not permitt ...
How to use SETTING button
The display as illustrated will appear when the SETTING button is pushed. For navigation settings, refer to the separate Navigation System Owner's Manual. Audio settings The display as ill ...