2009 Infiniti FX35 Review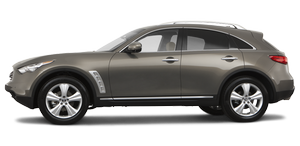 Not many people need a sporty luxury SUV like the Infiniti FX. You either want the utility of an SUV or the sportiness of a sedan or coupe — why would you compromise both for an unwieldy hybrid of the two? Maybe looks have more to do with popularity than anything else, though, and the new 2009 Infiniti FX — along with its just-introduced competition, the BMW X6 — offers style to make up for the compromised substance.
I drove both the all-new BMW X6 and the redesigned 2009 FX back-to-back on and around Wisconsin's Road America raceway and found the X6 the far superior vehicle. After living with both in the real world, though, and spending a full week with the FX35, it's glaringly apparent that the FX is the real winner when it comes to real-world use — even if it is pricey and doesn't hold a lot of cargo or give a commanding view of the road. Plus, my dog couldn't ride in the back because of the sloping roofline.
Oh, and one more thing I learned from my week of testing: I really want an Infiniti FX35.