Power & Handling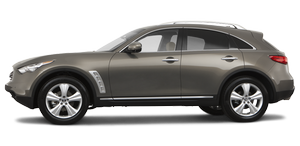 My test car was the base FX model, the FX35, which means it has a 303-horsepower, 3.5-liter V-6. The FX50 has a V-8 engine that's, you guessed it, 5.0 liters, producing 390 hp. Costing nearly $14,000 extra, I say keep the V-8's 87 hp — that's about $160 per extra horsepower, though you also get more than $5,000 in options standard on the FX50. The FX35 is plenty fast for my SUV needs. I'm not discounting V-8 power, but in this application the V-6 and seven-speed automatic transmission deliver silky-smooth power at the right time, and it just feels good. Why mess with that? Plus, parents out there can buy their kid a Nissan Versa with the savings.
The 3.5-liter V-6 powers many Nissan and Infiniti products and has won awards internationally and praise almost universally in the Cars.com offices.
Also impressive is the handling, which was surprising to me because of the long front end. I thought slinging a crossover around corners in the same manner as a sports car wouldn't translate to a pleasing driving experience. Yeah, I was wrong about that. In hard cornering, the FX squats down with little of the body roll you associate with SUVs and crossovers. My rear-wheel-drive tester felt well-planted, too. If you don't live in the Snow Belt, I'd say forego the all-wheel-drive option.
Even with all the sportiness, the ride was mighty comfortable. On one long outing, my wife commented on how quiet it was on a rough highway. That quiet sensation was even more impressive because we were running on 18-inch wheels, which are standard. Optional 20-inch wheels can be had, and 21-inch wheels are standard on the FX50. I presume the ride isn't as pleasant with either of those options, so be sure to check it out on your test drive.
Compared to the BMW X6 35xi I recently tested, the FX35 felt light on its feet and much more nimble, without giving up any noticeable performance edge. BMW's trademark heavy steering and huge tires were drawbacks in my real-world testing, where the X6 lumbered along and road noise proved obtrusive. The FX was the polar opposite, gliding along long stretches and just being an overall friendlier daily driver.
See also:
INFINITI Intelligent Key System
WARNING ● Radio waves could adversely affect electric medical equipment. Those who use a pacemaker should contact the electric medical equipment manufacturer for the possible influences befor ...
How to use the SETTING button
Press the SETTING button to display the Settings screen. You can select and/or adjust several functions, features and modes that are available for your vehicle. Use the INFINITI controller to select ...
System operation
The automatic drive positioner system will not work or will stop operating under the following conditions: ● When the vehicle speed is above 4 MPH (7 km/h). ● When any of the memory ...