Small children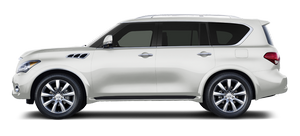 Children that are over 1 year old and weigh at least 20 lbs (9 kg) should remain in a rear-facing child restraint as long as possible up to the height or weight limit of the child restraint. Forward-facing child restraints are available for children who outgrow rear-facing child restraints and are at least 1 year old. Refer to the manufacturer's instructions for minimum and maxi m u m w e i g h t a n d h e i g h t recommendations. INFINITI recommends that small children be placed in child restraints that comply with Federal Motor Vehicle Safety Standards or Canadian Motor Vehicle Safety Standards. You should choose a child restraint that fits your vehicle and always follow the manufacturer's instructions for installation and use.
See also:
Manual operation
Fan speed control Press the fan control buttons to manually control the fan speed. Press the AUTO button to return to automatic control of the fan speed. Temperature control Press the temperat ...
Sonar system OFF switch
Sonar system OFF switch The sonar system OFF switch on the instrument panel allows the driver to turn the sonar system on and off. To turn the sonar system on and off, the ignition switch must be i ...
A look inside
The new Infiniti M has an interior every bit as carefully crafted as its exterior. The result of extensive research by engineers and designers into every aspect of the cabin, from the shape of the ...