Small children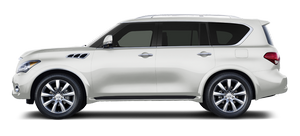 Children that are over 1 year old and weigh at least 20 lbs (9 kg) should remain in a rear-facing child restraint as long as possible up to the height or weight limit of the child restraint. Forward-facing child restraints are available for children who outgrow rear-facing child restraints and are at least 1 year old. Refer to the manufacturer's instructions for minimum and maxi m u m w e i g h t a n d h e i g h t recommendations. INFINITI recommends that small children be placed in child restraints that comply with Federal Motor Vehicle Safety Standards or Canadian Motor Vehicle Safety Standards. You should choose a child restraint that fits your vehicle and always follow the manufacturer's instructions for installation and use.
See also:
Three-way catalyst
The three-way catalyst is an emission control device installed in the exhaust system. Exhaust gases in the three-way catalyst are burned at high temperatures to help reduce pollutants. WARNING • The ...
Touch screen operation
With this system, the same operations as those for the INFINITI controller are possible using the touch screen operation. Selecting the item: Touch an item to select it. To select the "Audio" sett ...
How Does It Stack Up?
Draw comparisons to the M or AMG bunch, and this Infiniti does not. It is a tad coarse compared with even a BMW 335i coupe or Audi S5. The VQ-series engine isn't as smooth as a Bimmer's, and the I ...