Small children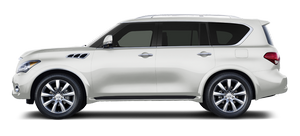 Children that are over 1 year old and weigh at least 20 lbs (9 kg) should remain in a rear-facing child restraint as long as possible up to the height or weight limit of the child restraint. Forward-facing child restraints are available for children who outgrow rear-facing child restraints and are at least 1 year old. Refer to the manufacturer's instructions for minimum and maxi m u m w e i g h t a n d h e i g h t recommendations. INFINITI recommends that small children be placed in child restraints that comply with Federal Motor Vehicle Safety Standards or Canadian Motor Vehicle Safety Standards. You should choose a child restraint that fits your vehicle and always follow the manufacturer's instructions for installation and use.
See also:
Manual Transmission
WARNING • Do not downshift abruptly on slippery roads. This may cause a loss of control.• Do not over-rev the engine when shifting to a lower gear. This may cause a loss of control or engine damage. ...
Storage tray
WARNING Do not place sharp objects in the trays to help prevent injury in an accident or sudden stop. ...
VQ37VHR engine
Use unleaded premium gasoline with an octane rating of at least 91 AKI (Anti-Knock Index) number (Research octane number 96). If premium gasoline is not available, unleaded regular gasoline with an o ...