Receiving a call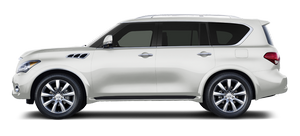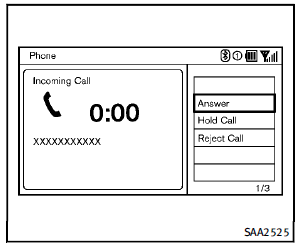 When you hear a phone ring, the display will change to the incoming call mode. To receive a call, perform one of the following procedures listed below. 1. Select the "Answer" key. 2. Push the

button on the steering wheel. There are some options available when receiving a call. Select one of the following displayed on the screen.
► Answer
Accept an incoming call to talk.
► Hold Call
Put an incoming call on hold.
► Reject Call
Reject an incoming call. To finish the call, perform one of the following procedures listed below. 1. Select the "Hang up" key. 2. Push the

button on the steering wheel.
See also:
Precautions on FCW system
Vehicle ahead detection light Warning systems switch WARNING ● The FCW system is intended to warn you before a collision but will not avoid a collision. It is the driver's responsibili ...
Off-road recovery
If the right side or left side wheels unintentionally leave the road surface, maintain control of the vehicle by following the procedure below. Please note that this procedure is only a general guide. ...
Voice adaptation mode
The Voice Adaptation mode allows up to two users with different dialects to train the system to improve recognition accuracy. By repeating a number of commands, the users can create a voice model of ...