Receiving a call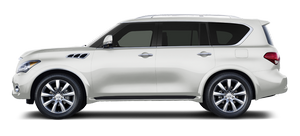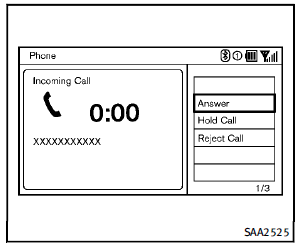 When you hear a phone ring, the display will change to the incoming call mode. To receive a call, perform one of the following procedures listed below. 1. Select the "Answer" key. 2. Push the

button on the steering wheel. There are some options available when receiving a call. Select one of the following displayed on the screen.
► Answer
Accept an incoming call to talk.
► Hold Call
Put an incoming call on hold.
► Reject Call
Reject an incoming call. To finish the call, perform one of the following procedures listed below. 1. Select the "Hang up" key. 2. Push the

button on the steering wheel.
See also:
Tire chains
Use of tire chains may be prohibited according to location. Check the local laws before installing tire chains. When installing tire chains, make sure they are the proper size for the tires on ...
Connecting procedure
1. Press the SETTING button on the instrument panel and select the "Bluetooth" key on the display. 2. Select the "Connect Bluetooth" key. 3. A popup box will appear on the screen, prompting yo ...
A look inside
The new Infiniti M has an interior every bit as carefully crafted as its exterior. The result of extensive research by engineers and designers into every aspect of the cabin, from the shape of the ...