INFINITI Voice Recognition system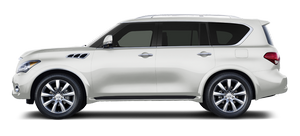 INFINITI Voice Recognition allows handsfree operation of the Phone, Navigation, Information and Audio systems in one of two modes, Standard Mode or Alternate Command Mode. In Standard Mode, commands that are available are always shown on the display and announced by the system. You can complete your desired operation by simply following the prompts given by the system. (See "INFINITI Voice Recognition Standard Mode" later in this section for details.). For advanced operation, you can use the Alternate Command Mode. (See "INFINITI Voice Recognition Alternate Command Mode" later in this section for details.). When this mode is active, an expanded list of commands can be spoken after pushing the TALK switch, and the voice command menu prompts are turned off. Review the expanded command list, which is available when this mode is active. Note that in this mode the recognition success rate may be affected as the number of available commands and the ways of speaking each command are increased. To switch one mode to another, see each mode description later in this section. To improve the recognition success rate when Alternate Command Mode is active, try using the Speaker Adaptation Function available in that mode. Otherwise, it is recommended that Alternate Command Mode be turned off and Standard Mode be used for the best recognition performance. For the voice commands for the navigation system, refer to the Navigation System Owner's Manual of your vehicle.
See also:
Vehicle phonebook
This vehicle has two phonebooks available for your use. Depending on your phone, the system may automatically download your entire cell phone's phonebook into the "Handset Phonebook". For the det ...
2011 Infiniti EX35 Review
As soon as I took off in the 2011 Infiniti EX35, I immediately felt like I was driving with my grandmother. I mean that in a good way. With her desire to keep me and my passengers safe, she lets m ...
Spare tire (TEMPORARY USE ONLY (T-type) spare tire)
Observe the following precautions if the Ttype spare tire must be used, otherwise your vehicle could be damaged or involved in an accident. WARNING • The T-type spare tire should be used for emergen ...