Avoiding collision and rollover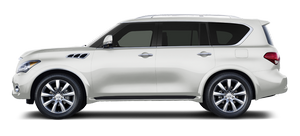 WARNING
Failure to operate this vehicle in a safe and prudent manner may result in loss of control or an accident.
Be alert and drive defensively at all times. Obey all traffic regulations. Avoid excessive speed, high speed cornering, or sudden steering maneuvers, because these driving practices could cause you to lose control of your vehicle. As with any vehicle, a loss of control could result in a collision with other vehicles or objects, or cause the vehicle to rollover, particularly if the loss of control causes the vehicle to slide sideways. Be attentive at all times, and avoid driving when tired. Never drive when under the influence of alcohol or drugs (including prescription or over-thecounter drugs which may cause drowsiness). Always wear your seat belt as outlined in the "Seat belts" in the "1. Safety — seats, seat belts and supplemental restraint system" section of this manual, and also instruct your passengers to do so. Seat belts help reduce the risk of injury in collisions and rollovers. In a rollover crash, an unbelted or improperly belted person is significantly more likely to be injured or killed than a person properly wearing a seat belt.
See also:
Wheels
Wash the wheels when washing the vehicle to maintain their appearance. ► Clean the inner side of the wheels when the wheel is changed or the underside of the vehicle is washed. ► ...
To protect your vehicle from corrosion
● Wash and wax your vehicle often to keep the vehicle clean. ● Always check for minor damage to the paint and repair it as soon as possible. ● Keep drain holes at the bottom of ...
List of voice commands
When you press and release the button on the steering wheel, you can choose from the commands on the Main Menu. The following pages describe these commands and the commands in each sub-menu. Rem ...