Off-road recovery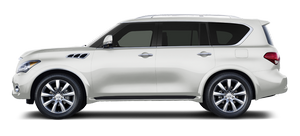 If the right side or left side wheels unintentionally leave the road surface, maintain control of the vehicle by following the procedure below. Please note that this procedure is only a general guide. The vehicle must be driven as appropriate based on the conditions of the vehicle, road and traffic. 1. Remain calm and do not overreact. 2. Do not apply the brakes. 3. Maintain a firm grip on the steering wheel with both hands and try to hold a straight course. 4. When appropriate, slowly release the accelerator pedal to gradually slow the vehicle. 5. If there is nothing in the way, steer the vehicle to follow the road while the vehicle speed is reduced. Do not attempt to drive the vehicle back onto the road surface until vehicle speed is reduced. 6. When it is safe to do so, gradually turn the steering wheel until both tires return to the road surface. When all tires are on the road surface, steer the vehicle to stay in the appropriate driving lane.
► If you decide that it is not safe to return the vehicle to the road surface based on vehicle, road or traffic conditions, gradually slow the vehicle to a stop in a safe place off the road.
See also:
Three-way catalyst
The three-way catalyst is an emission control device installed in the exhaust system. Exhaust gases in the three-way catalyst are burned at high temperatures to help reduce pollutants. WARNI ...
Accelerator downshift — In D (Drive) position
For passing or hill climbing, fully depress the accelerator pedal to the floor. This shifts the transmission down into the lower gear, depending on the vehicle speed. ...
Indicators for maintenance
1. Engine oil replacement indicator This indicator appears when the customer set time comes for changing the engine oil. You can set or reset the distance for changing the engine oil. (See "Trip c ...