Increasing fuel economy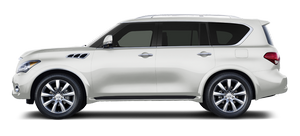 ► Accelerate slowly and smoothly. Maintain cruising speeds with a constant accelerator position.
► Drive at moderate speeds on the highway.
► Avoid unnecessary stopping and braking. Keep a safe distance behind other vehicles.
► Select a gear range suitable to road conditions.
► Avoid unnecessary prolonged engine idling.
► Keep your engine tuned up.
► Follow the recommended periodic maintenance schedule.
► Keep the tires inflated at the correct pressure. Improper tire pressure will increase wear and waste fuel.
► Make sure the front wheels are properly aligned. Improper alignment will cause premature tire wear and lower fuel economy.
► Climate control operation lowers fuel economy. Use the air conditioner only when necessary.
► When cruising at highway speeds, it is more economical to use the air conditioner and leave the windows closed to reduce drag.
See also:
Making a call
To make a call, follow this procedure. 1. Push the button on the steering wheel. The "PHONE" screen will appear on the display. 2. Select the "Handset Phonebook" key on the "PHONE" menu. ...
Drive belts
VQ25HR engine 1. Power steering fluid pump2. Alternator3. Crankshaft pulley4. Air conditioner compressor : Tension checking points VQ37VHR engine 1. Power steering fluid pump2. Alternator3. C ...
Security systems
Security systems Your vehicle has two types of security systems, as follows:• Vehicle security system• INFINITI Vehicle Immobilizer System The security condition will be shown by the security indi ...