Brake booster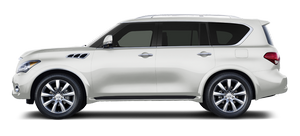 Check the brake booster function as follows: 1. With the engine off, depress and release the foot brake pedal more than 20 times. When the foot brake pedal movement (distance of travel) remains the same from one pedal application to the next, continue on to the next step. 2. While depressing the foot brake pedal, start the engine. 3. With the foot brake pedal depressed, stop the engine. Keep the pedal depressed for about 30 seconds. 4. Run the engine for 1 minute without depressing the foot brake pedal, then turn it off. Depress the foot brake pedal several times. The pedal travel distance will decrease gradually with each depression as the hydraulic pressure decreases. If the brakes do not operate properly, have the brakes checked by an INFINITI retailer.
See also:
Manual transmission
Х Always tow with the manual transmission in Neutral. Х Your vehicle speed should never exceed 70 MPH (112 km/h) when flat towing your vehicle. Х After towing 500 miles, start and idle the engine wi ...
Small children
Children that are over 1 year old and weigh at least 20 lbs (9 kg) should remain in a rear-facing child restraint as long as possible up to the height or weight limit of the child restraint. F ...
Clutch fluid (if so equipped)
Clutch fluid (if so equipped) Check the fluid level in the reservoir. If the fluid level is below the MIN line 1 , add Genuine NISSAN Super Heavy Duty Brake Fluid or equivalent DOT 3 fluid up to ...