Brake booster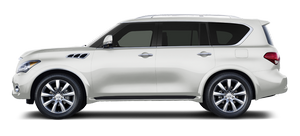 Check the brake booster function as follows: 1. With the engine off, depress and release the foot brake pedal more than 20 times. When the foot brake pedal movement (distance of travel) remains the same from one pedal application to the next, continue on to the next step. 2. While depressing the foot brake pedal, start the engine. 3. With the foot brake pedal depressed, stop the engine. Keep the pedal depressed for about 30 seconds. 4. Run the engine for 1 minute without depressing the foot brake pedal, then turn it off. Depress the foot brake pedal several times. The pedal travel distance will decrease gradually with each depression as the hydraulic pressure decreases. If the brakes do not operate properly, have the brakes checked by an INFINITI retailer.
See also:
Window washer fluid
WARNING Antifreeze is poisonous and should be stored carefully in marked containers out of the reach of children. Fill the window washer fluid reservoir periodically. Add window washer flu ...
Console box
Automatic transmission models Manual transmission models Coupe — Manual transmission model To open the console boxes, push the knob A and pull up the lid. To close, push the lid down until l ...
Off-road recovery
If the right side or left side wheels may unintentionally leave the road surface. Maintain control of the vehicle by following the procedure below. Please note that this procedure is only a general g ...