Brake booster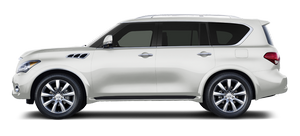 Check the brake booster function as follows: 1. With the engine off, depress and release the foot brake pedal more than 20 times. When the foot brake pedal movement (distance of travel) remains the same from one pedal application to the next, continue on to the next step. 2. While depressing the foot brake pedal, start the engine. 3. With the foot brake pedal depressed, stop the engine. Keep the pedal depressed for about 30 seconds. 4. Run the engine for 1 minute without depressing the foot brake pedal, then turn it off. Depress the foot brake pedal several times. The pedal travel distance will decrease gradually with each depression as the hydraulic pressure decreases. If the brakes do not operate properly, have the brakes checked by an INFINITI retailer.
See also:
Driving on snow or ice
WARNING ► Wet ice (328F, 08C and freezing rain), very cold snow or ice can be slick and very hard to drive on. The vehicle will have much less traction or "grip" under these condition ...
Edit Vehicle Phonebook
To edit the vehicle phonebook, use the same procedure as described in "Vehicle phonebook". ...
Valet hand-off
When you have to leave a key with a valet, give them the Intelligent Key itself and keep the mechanical key with you to protect your belongings. To prevent the glove box and the trunk from being open ...