Brake booster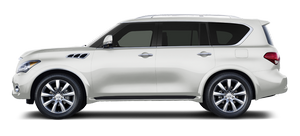 Check the brake booster function as follows: 1. With the engine off, depress and release the foot brake pedal more than 20 times. When the foot brake pedal movement (distance of travel) remains the same from one pedal application to the next, continue on to the next step. 2. While depressing the foot brake pedal, start the engine. 3. With the foot brake pedal depressed, stop the engine. Keep the pedal depressed for about 30 seconds. 4. Run the engine for 1 minute without depressing the foot brake pedal, then turn it off. Depress the foot brake pedal several times. The pedal travel distance will decrease gradually with each depression as the hydraulic pressure decreases. If the brakes do not operate properly, have the brakes checked by an INFINITI retailer.
See also:
Temperature A, B and C
The temperature grades A (the highest), B, and C, representing the tire's resistance to the generation of heat and its ability to dissipate heat when tested under controlled conditions on a specified ...
How to use the SETTING button
Press the SETTING button to display the Settings screen. You can select and/or adjust several functions, features and modes that are available for your vehicle. Use the INFINITI controller to select ...
Sonar system (if so equipped)
Sonar system (if so equipped) WARNING • The sonar system is a convenience but it is not a substitute for proper parking.Always look around and check that it is safe to do so before parking. Always ...