Opening windows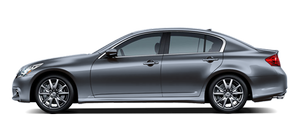 The UNLOCK

button operation also allows you to open the window that is equipped with the automatic open/close function. (See "Power windows").
To open the window, push the door UNLOCK

button 2 on the Intelligent Key for about 3 seconds after the door is unlocked.
To stop opening, release the UNLOCK

button.
If the window open operation is stopped in mid-operation while pushing the UNLOCK

button, release and push the UNLOCK

button again until the window opens completely.
Window cannot be closed using the Intelligent Key.
The door window can also be operated by turning the mechanical key in a door lock.
(See "Doors".)
See also:
F.M.V.S.S./C.M.V.S.S. certification label
The Federal/Canadian Motor Vehicle Safety Standards (F.M.V.S.S./C.M.V.S.S.) certification label is affixed as shown. This label contains valuable vehicle information, such as: Gross Vehicle ...
Mechanical key
The Intelligent Key contains the mechanical key, which can be used in case of a discharged battery. To remove the mechanical key, release the lock knob on the back of the Intelligent Key. To i ...
Brake system
The brake system has two separate hydraulic circuits. If one circuit malfunctions, you will still have braking at 2 wheels. ...