120v outlet (if so equipped)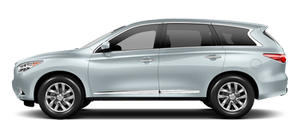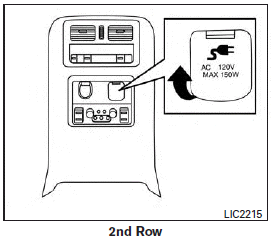 CAUTION
● The outlet and plug may be hot during or immediately after use.
● Use power outlets with the engine running to avoid discharging the vehicle battery.
● For devices that require power of 150W or over, the vehicle must be placed in the P (Park) position.
● For the power outlet located in the rear of the vehicle, do not use with accessories that exceed 120v without activating the power inverter switch. Do not use double adaptors or more than one electrical accessory.
● Avoid using power outlets when the air conditioner, headlights or rear window defroster is on.
● Before inserting or disconnecting a plug, be sure the electrical accessory being used is turned OFF.
● Push the plug in as far as it will go. If good contact is not made, the plug may overheat or the internal temperature fuse may open.
● When not in use, be sure to close the cap. Do not allow water or any other liquid to contact the outlet.
See also:
Exterior
The EX35 was a crowd-pleaser and turned heads as I drove by. I should mention that it was primarily female heads that were turned. That's understandable because the EX35's curvy profile was an att ...
Exterior
The QX looks a little like a guy I saw at the airport the other day who was trying to squeeze in a few too many trends. (Really? Black, skinny emo jeans, a handlebar mustache and a Mohawk? Choose on ...
2012 Infiniti IPL G Coupe review
The 2012 IPL G Coupe represents many things to Infiniti. For starters, the Infiniti Performance Line (IPL) is the automaker's first dabble into the kind of performance premium sub-branding that ma ...