Seat synchronization function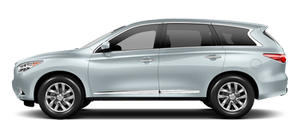 The seat synchronization function automatically adjusts the positions of the steering wheel and outside mirrors when the seat is adjusted using the power seat switches.
However, the steering wheel and outside mirrors will not move if the seat is adjusted over the maximum thresholds. The system considers that the steering wheel and outside mirror adjustments are not necessary because the seat may not be adjusted for the driving position. Note that the function is set to disabled as the factory default setting.
The seat synchronization function operates under the following conditions:
● The ignition switch is in the ON position.
● The shift selector is in the P (Park) position.
If the outside mirrors or the steering wheel reaches its maximum adjustment, the function is automatically disabled. Restart the function by selecting a previously stored seat memory position using the memory switches (1 or 2). An Intelligent Key that was previously linked to the stored seat memory can also be used to restart the function.
If a seat position was not previously stored in the seat memory, restart the function by adjusting the steering wheel and outside mirrors manually for your best driving position and then drive the vehicle above 4 MPH (7 km/h).
Cancel or activate seat synchronization function
The shift selector must be in the P (Park) position with the ignition switch placed in the ACC position.
See also:
Read first — then drive safely
Before driving your vehicle, read your Owner's Manual carefully. This will ensure familiarity with controls and maintenance requirements, assisting you in the safe operation of your vehicle. WARNING ...
Linking a keyfob to a stored memoryposition
Each keyfob can be linked to a stored memory position (memory switch 1 or 2) with the following procedure. 1. Follow the steps for storing a memory position. 2. While the indicator light for the ...
How to use the touch screen
CAUTION ● The glass display screen may break if it is hit with a hard or sharp object. If the glass screen breaks, do not touch it. Doing so could result in an injury. ● To clean ...