Behind the wheel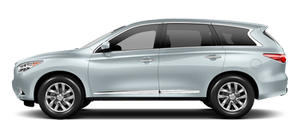 The JX felt surprisingly light to drive. I can usually feel the size of any three-row vehicle when accelerating, but the 265-horsepower, 3.5-liter V-6 engine took next to no effort to get the JX up to speed. Using the drive mode selector, I switched out of Normal and into Sport mode to get the continuously variable automatic transmission to feel as if it were shifting through the gears, a sensation I prefer. Eco and Snow modes are there to play around with, as well as a manual-shift mode, which I would definitely use in my normal life traveling up and down mountain passes.
The other impressive feat is the JX35's ability to hug the road like a car when cornering, rather than tilting and rolling as you'd expect from an SUV or large crossover.
The standard front-wheel-drive JX35 (rated an estimated 18/24 mpg city/highway and 21 mpg combined) can be upgraded to all-wheel drive (dropping to 23 mpg highway and 20 mpg combined) for a mere $1,100, a feature I would take advantage of if purchasing one in my neck of the Rocky Mountain woods.