Rear window wiper and washer switch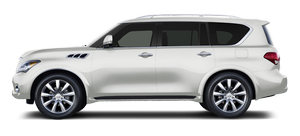 WARNING
In freezing temperatures the washer solution may freeze on the rear window glass and obscure your vision. Warm the rear window with the defroster before you wash the rear window.

CAUTION
► Do not operate the washer continuously for more than 30 seconds.
► Do not operate the washer if the reservoir tank is empty.
► Do not fill the window washer reservoir tank with washer fluid concentrates at full strength. Some methyl alcohol based washer fluid concentrates may permanently stain the grille if spilled while filling the window washer reservoir tank.
► Pre-mix washer fluid concentrates with water to the manufacturer's recommended levels before pouring the fluid into the window washer reservoir tank. Do not use the window washer reservoir tank to mix the washer fluid concentrate and water.
If the rear window wiper operation is interrupted by snow etc., the wiper may stop moving to protect its motor. If this occurs, turn the wiper switch to OFF and remove the snow etc. on and around the wiper arms. After about 1 minute, turn the switch ON again to operate the wiper.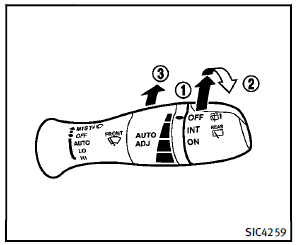 The rear window wiper and washer operate when the ignition switch is in the ON position. Turn the switch clockwise from the OFF position to operate the wiper.
1 Intermittent (INT) — intermittent operation (not adjustable)
2 Low (ON) — continuous low speed operation
Push the switch forward3 to operate the washer. Then the wiper will also operate several times.
See also:
Specifications
Engine This spark ignition system complies with the Canadian standard ICES-002. Wheels and tires Road wheel ...
Drinking alcohol/drugs and driving
WARNING Never drive under the influence of alcohol or drugs. Alcohol in the bloodstream reduces coordination, delays reaction time and impairs judgement. Driving after drinking alcohol increases th ...
Family-friendly features
The JX is all about having your cake and eating it, too. Want family-friendly features in your car but don't want to sacrifice style or drivability? The JX mostly accomplishes both. The interior o ...