4WD shift switch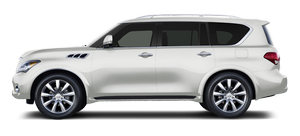 ► Shift the 4WD shift switch to either the AUTO, 4H or 4L position, depending on driving conditions.
► With the switch set to the AUTO position, distribution of torque to the front and rear wheels changes automatically, depending on road conditions encountered [ratio; 0 : 100 (2WD) ? 50 : 50 (4WD)]. This results in improved driving stability.
► If the 4WD shift switch is operated while making a turn, accelerating or decelerating or if the ignition switch is placed in the OFF position while in the AUTO, 4H or 4L, you may feel a jolt. This is not abnormal.
► When the vehicle is stopped after making a turn, you may feel a slight jolt after the selector lever is shifted to N (Neutral) or P (Park) position. This occurs because the transfer clutch is released and not because of a malfunction.

CAUTION
► When driving straight, shift the 4WD shift switch to the AUTO or 4H position. Do not move the 4WD shift switch when making a turn or reversing.
► Do not shift the 4WD shift switch while driving on steep downhill grades. Use the engine brake and low automatic transmission gears for engine braking.
► Do not operate the 4WD shift switch with the rear wheels spinning.
► Before placing the 4WD shift switch in the 4H position from AUTO, ensure the vehicle speed is less than 62 MPH (100 km/h). Failure to do so can damage the 4WD system.
► Never shift the 4WD shift switch between 4L and 4H while driving.
► Engine idling speed is high while warming up the engine. Be especially careful when starting or driving on slippery surfaces with the 4WD shift switch in AUTO.
See also:
Flat towing
Towing your vehicle with all four wheels on the ground is sometimes called flat towing. This method is sometimes used when towing a vehicle behind a recreational vehicle, such as a motor home. CAUTI ...
Bluetooth® settings (models with navigation system)
For details of the "Bluetooth®" settings, see "Bluetooth® Hands-Free Phone System (models with navigation system)". ...
High-End Technology
A couple high-tech options broke new automotive ground upon their arrival in last year's EX: the Around View Monitor and Lane Departure Prevention. Infiniti subsequently added both to several othe ...