4WD shift switch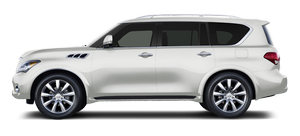 ► Shift the 4WD shift switch to either the AUTO, 4H or 4L position, depending on driving conditions.
► With the switch set to the AUTO position, distribution of torque to the front and rear wheels changes automatically, depending on road conditions encountered [ratio; 0 : 100 (2WD) ? 50 : 50 (4WD)]. This results in improved driving stability.
► If the 4WD shift switch is operated while making a turn, accelerating or decelerating or if the ignition switch is placed in the OFF position while in the AUTO, 4H or 4L, you may feel a jolt. This is not abnormal.
► When the vehicle is stopped after making a turn, you may feel a slight jolt after the selector lever is shifted to N (Neutral) or P (Park) position. This occurs because the transfer clutch is released and not because of a malfunction.

CAUTION
► When driving straight, shift the 4WD shift switch to the AUTO or 4H position. Do not move the 4WD shift switch when making a turn or reversing.
► Do not shift the 4WD shift switch while driving on steep downhill grades. Use the engine brake and low automatic transmission gears for engine braking.
► Do not operate the 4WD shift switch with the rear wheels spinning.
► Before placing the 4WD shift switch in the 4H position from AUTO, ensure the vehicle speed is less than 62 MPH (100 km/h). Failure to do so can damage the 4WD system.
► Never shift the 4WD shift switch between 4L and 4H while driving.
► Engine idling speed is high while warming up the engine. Be especially careful when starting or driving on slippery surfaces with the 4WD shift switch in AUTO.
See also:
Glass
Use glass cleaner to remove smoke and dust film from the glass surfaces. It is normal for glass to become coated with a film after the vehicle is parked in the hot sun. Glass cleaner and a soft cloth ...
Connecting procedure
1. Push the SETTING button and select the "Bluetooth" key. 2. Select the "Connect Bluetooth" key. 3. A confirmation screen will be displayed. Select "No". Note: Selecting "Yes" will only con ...
Doors
WARNING ► Always have the doors locked while driving. Along with the use of seat belts, this provides greater safety in the event of an accident by helping to prevent persons from bei ...