How to use INFINITI controller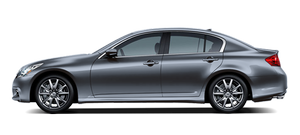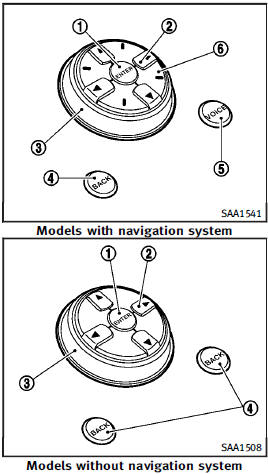 Choose an item on the display using the main directional buttons 2 (or additional directional buttons 6 with navigation system) or center dial 3 , and push the ENTER button 1 for operation.
If you push the BACK button 4 before the setup is completed, the setup will be canceled and/or the display will return to the previous screen. This button can also be used to delete characters that have been input.
After the setup is completed, push the BACK button 4 and return to the previous screen.
For the VOICE button 5 functions, refer to the separate Navigation System Owner's Manual.
See also:
Tire inflation pressure
Check the pressure of the tires (including the spare) often and always prior to long distance trips. The recommended tire pressure specifications are shown on the Tire and Loading Information label un ...
Difference between predicted and actual distances
The distance guide line and the vehicle width guide line on the front and the rearview should be used as a reference only when the vehicle is on a level, paved surface. The distance viewed on ...
E-85 fuel
E-85 fuel is a mixture of approximately 85% fuel ethanol and 15% unleaded gasoline. E-85 can only be used in a Flexible Fuel Vehicle (FFV). Do not use E- 85 fuel in your vehicle. U.S. government regul ...