Audio settings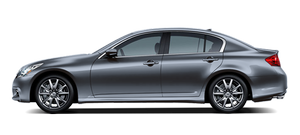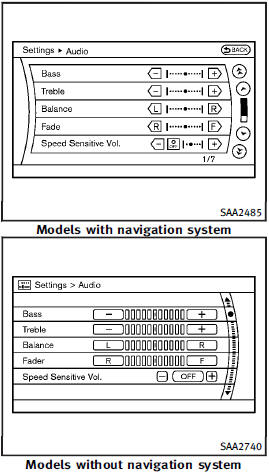 Audio settings
The display as illustrated will appear when pushing the SETTING button and selecting the "Audio" key.
Bass/Treble/Balance/Fade:
To adjust the speaker tone quality and sound balance, select the "Bass", "Treble", "Balance" or "Fade" key and adjust it with the INFINITI controller.
These items can also be adjusted by pushing and turning the AUDIO knob.
Speed Sensitive Vol.:
The audio system's volume is increased with the vehicle speed. Select the "Speed Sensitive Vol." and adjust the effect level with the INFINITI controller. The Speed Sensitive Volume function is turned off when the level is set to OFF. Increasing the value will cause the volume to increase faster with vehicle speed.
Precision Phased Audio (if so equipped):
When this item is turned to ON, super high pitch sound and super low pitch sound are emphasized and midrange sound is played naturally.
Driver's Audio Stage (if so equipped):
When this feature is turned to ON, better sound will be provided to the driver's position. The driver can enjoy a more crisp and clear sound that is specialized for the driver's position. The effect of this feature depends on the type of music that is played. For some music, it may be difficult to realize the effect of this feature.
DivX® Registration Code (models with navigation system):
The registration code for a device that is used to download DivX® files will be displayed on the screen. If a disc is loaded or a USB memory is connected to the audio system, this function will not be activated.
Display Album Cover Art (models with navigation system):
When this item is turned to ON, the album cover image is displayed when playing iPod® or MP3 music files through a CD, DVD or USB memory. When the image is not properly embedded in the file or device, the image will not be displayed.
See also:
Linking the keyfob to automatic drivepositioner memory
If the vehicle is equipped with automatic drive positioner, the keyfob can be linked to a memory setting. See "Automatic drive positioner" in this section. ...
System operation
The automatic drive positioner system will not work or will stop operating under the following conditions: . When the vehicle speed is above 4 MPH (7 km/h). • When the adjusting switch for the driver ...
Fuel Recommendation
Use unleaded premium gasoline with an octane rating of at least 91 AKI (Anti-Knock Index) number (Research octane number 96). If unleaded premium gasoline is not available, you may use unleaded reg ...