V-6 Power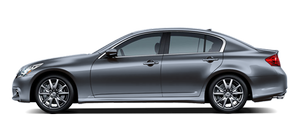 Gallons of ink and multiple terabytes have been expended comparing every iota of the G37 sedan's 3.7-liter V-6 to the optional turbocharged inline-six from its archrival, the BMW 3 Series. Suffice it to say that its similar curb weight plus an extra 31 pounds-feet of torque make the 335i quicker off the line, despite a lower power rating of 300 horsepower. But the 328-hp G37 has gobs of output in its own right, accelerating with more urgency than many other competitors — including the Acura TL, Audi A4 and 3.6-liter Cadillac CTS, to name a few. Even with all-wheel drive, which adds some 200 pounds versus a rear-wheel-drive G37, the sedan bolts away from stoplights and muscles its way up to highway speeds. Push the engine hard, and the power feels a bit peaky — there's less of it starting out and a lot more as the tachometer needle swings clockwise — but that's a relative sensation. In absolute terms, you'll find usable oomph even around town at 2,000 rpm. (That may not be the case for every G next year, when Infiniti introduces a 218-hp G25 to the mix.)
Matched well to the engine is the G37's seven-speed automatic transmission, which replaced a five-speed gearbox for 2009. The seven-speed isn't as decisive — with slower kickdown on the highway and occasional hunting for the right gear — but its short ratios mean the G's high-revving power comes up quickly.
Stick-shift drivers will appreciate the G37's marvelous six-speed manual, which we've tested in the past. With short throws and a crisp feel to the gates, it beats the 3 Series' rubbery shifter and the balky one on both the A4 and CTS. The clutch's narrow friction point takes some getting used to, but accelerator response is virtually instantaneous, allowing you to hammer off easy rev-matched downshifts. Interestingly, I detected a lot more accelerator lag in the automatic G37 we tested this time around, though it's not nearly as bad as in some cars. I should also say that we haven't driven this year's manual G37, and drivetrain calibrations can change by the year. If you drive a manual G, use the link at the end of the review to drop me a note with your assessment of its responsiveness.
See also:
Unlocking doors and fuel-filler door
1. Push the door handle request switch (driver's or front passenger's) A once while carrying the Intelligent Key with you. 2. The hazard indicator flashes once and outside chime sounds once. The corr ...
Operating range for engine start function
The operating range for starting the engine inside the vehicle 1 is shown in the illustration. ► If the Intelligent Key is on the instrument panel, cargo area, inside the glove box o ...
Locking doors
1. Place the ignition switch in the LOCK position. 2. Close all doors. 3. Press the button on the Intelligent Key. 4. The hazard warning lights flash twice and the horn beeps once. 5. ...