Smooth Power, Rough Ride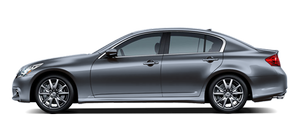 Driving the IPL home after a long workweek was like slamming a shot of espresso. It's fast and exhilaratingly fun to drive … but so is the base G37 coupe. The IPL adds 18 hp, but I really couldn't feel the difference.
Compared with the V-8 engines in rivals like the BMW M3 (414 hp) and Lexus IS-F (416 hp), the IPL's 348-hp, 3.7-liter V-6 may look feeble by comparison, but it can at least play in the same arena. Its plentiful power is robust from a stop and smooth and strong at higher speeds, and it has the soundtrack to back it up. It snorts and burbles upon takeoff and then fades to a more subtle but still sporty note on the highway. (See the three models compared here.)
Our test car was equipped with a six-speed manual transmission; a seven-speed automatic with paddle shifters is also available. The short-throw stick makes it easy to snap through shifts, though at times the action felt balky, and 1st gear occasionally required some force.
The G37 IPL is EPA rated at 17/25 mpg city/highway, beating the M3 (14/20 mpg) and IS-F (16/23 mpg) by a few digits. All three cars require premium fuel. I drove the Infiniti 182 miles (70 percent highway and 30 percent city) and got 19 mpg.
Most of those miles hurt, however. The IPL sport suspension has had most of the regular G37's comfort tuned out of it. The ride is firm, bordering on harsh. City potholes jar and resonate through the car. Things improve on the highway, but it still feels taught and jumpy over highway expansion joints. Its huge 19-inch wheels and low-profile summer tires don't help matters.
The IPL shines in the agility department, however, with crisp cornering and virtually no body lean. Overall, the steering is responsive. It feels light around town but firms up at higher speeds.
See also:
Changing a flat tire
If you have a flat tire, follow the instructions below. Stopping the vehicle 1. Safely move the vehicle off the road and away from traffic. 2. Turn on the hazard warning flashers. 3. Park on ...
Preview function (Intelligent Cruise Control system equipped models)
When the Preview Function identifies the need to apply emergency braking by sensing a vehicle ahead in the same lane and the distance and relative speed from it, it applies the brake pre-pressure befo ...
Connecting procedure
1. Push the PHONE button or the button, and select the "Connect Phone" key. SAA2520 2. When a PIN code appears on the screen, operate the compatible Bluetooth ® cellular phone to enter the PIN cod ...