Seat belt extenders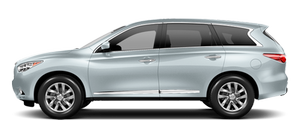 If, because of body size or driving position, it is not possible to properly fit the lap-shoulder belt and fasten it, an extender is available which is compatible with the installed seat belts. The extender adds approximately 8 in (200 mm) of length.
Seat belt extenders are available for the:
● Driver and front passenger seating position
● 2nd and 3rd row seating position
See an INFINITI retailer for assistance if an extender is required.
WARNING
● Only INFINITI seat belt extenders, made by the same company which made the original equipment seat belts, should be used with INFINITI seat belts.
● Adults and children who can use the standard seat belt should not use an extender. Such unnecessary use could result in serious personal injury in the event of an accident.
● Never use seat belt extenders to install child restraints. If the child restraint is not secured properly, the child could be seriously injured in a collision or a sudden stop.
See also:
Precautions
Start the engine when using the DVD entertainment system. Movies will not be shown on the front display while the vehicle is in any drive position to reduce driver distraction. Audio is available whe ...
Manual Transmission
WARNING • Do not downshift abruptly on slippery roads. This may cause a loss of control.• Do not over-rev the engine when shifting to a lower gear. This may cause a loss of control or engine damage. ...
AM radio reception
AM signals, because of their low frequency, can bend around objects and skip along the ground. In addition, the signals can be bounced off the ionosphere and bent back to earth. Because of these ch ...