In the Market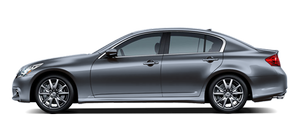 The main problem here is a good one for Infiniti: In regular form, the refined G37 coupe is already incredibly capable and exciting, which sets the bar pretty high for the IPL. Why pay a hefty price premium for the IPL? Its ride is too firm, road noise is off the charts and you get only 18 more horsepower — which it didn't really need in the first place.
Compared with the competition, the IPL may look like a deal, but to go up against the Ms and Fs of the world, it needs to offer more.
See also:
INFINITI Voice Recognition Standard Mode
The following section is applicable when the Standard Mode is activated. The Standard Mode enables you to complete the desired operation by simply following the prompts that appear on the di ...
Draining of coolant water
If the vehicle is to be left outside without antifreeze, drain the cooling system, including the engine block. Refill before operating the vehicle. For details, see "Engine cooling system" in ...
Suggested maximum speed in each gear
Downshift to a lower gear if the engine is not running smoothly, or if you need to accelerate. Do not exceed the maximum suggested speed (shown below) in any gear. For level road driving, use the hig ...