Windshield wiper and washer switch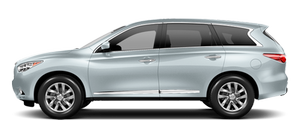 WARNING
In freezing temperatures the washer solution may freeze on the window and obscure your vision which may lead to an accident. Warm the window with the defroster before you wash the window.
CAUTION
● Do not operate the washer continuously for more than 30 seconds.
● Do not operate the washer if the reservoir tank is empty.
● Do not fill the window washer reservoir with washer fluid concentrates at full strength. Some methyl alcohol based washer fluid concentrates may permanently stain the grille if spilled while filling the window washer reservoir.
● Pre-mix washer fluid concentrates with water to the manufacturer's recommended levels before pouring the fluid into the window washer reservoir. Do not use the window washer reservoir to mix the washer fluid concentrate and water.
If the windshield wiper operation is interrupted by snow or ice, the wiper may stop moving to protect its motor. If this occurs, turn the wiper switch to the OFF position and remove the snow or ice that is on and around the wiper arms. In approximately 1 minute, turn the switch on again to operate the wiper.
See also:
Towing your vehicle
When towing your vehicle, all State (Provincial in Canada) and local regulations for towing must be followed. Incorrect towing equipment could damage your vehicle. Towing instructions are available f ...
Repair and replacement procedure
The front air bags, side air bags, curtain air bags and pretensioners are designed to activate on a one-time-only basis. As a reminder, unless it is damaged, the supplemental air bag warning light wil ...
Displaying command list
If you are controlling the system by voice commands for the first time or do not know the appropriate voice command, perform the following procedure for displaying the voice command list (available on ...