Switch operation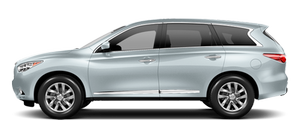 The windshield wiper and washer operates when the ignition switch is in the ON position.
Push the lever down to operate the wiper at the following speed:
1 Intermittent (INT) — intermittent operation can be adjusted by turning the knob toward A (Slower) or B (Faster). Also, the intermittent operation speed varies in accordance with the vehicle speed. (For example, when the vehicle speed is high, the intermittent operation speed will be faster.)
NOTE:
You can turn on or turn off the driving speed dependent intermittent wiper function.
Refer to "Vehicle information display" in this section.
For models with the rain-sensing auto wiper system, see "Rain-sensing auto wiper system" in this section.
2 Low (LO)—continuous low speed operation
3 High (HI) — continuous high speed operation
Push the lever up 4 to have one sweep operation (MIST) of the wiper.
Pull the lever toward you 5 to operate the washer. The wiper will also operate several times.
See also:
Brake booster
Check the brake booster function as follows: 1. With the engine off, depress and release the foot brake pedal more than 20 times. When the foot brake pedal movement (distance of travel) rema ...
Temperature A, B and C
The temperature grades A (the highest), B, and C, representing the tire's resistance to the generation of heat and its ability to dissipate heat when tested under controlled conditions on a specified ...
Locking with mechanical key
The power door lock system allows you to lock or unlock all doors simultaneously using the mechanical key. ► Turning the driver's door key cylinder to the front of the vehicle 1 will l ...