How to select menus on the screen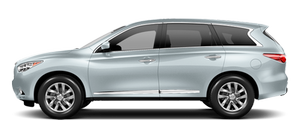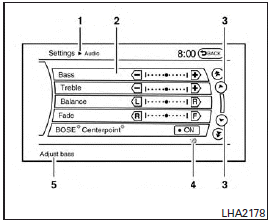 Vehicle functions are viewed on the center display screen in menus. Whenever a menu selection is made or menu item is highlighted, different areas on the screen provide you with important information. See the following for details.
1. Header:
Shows the path used to get to the current screen (for example, press the SETTING button then select the "Comfort" key).
2. Menu Selections:
Shows the options to choose within that menu screen (for example, Auto Interior Illumination, etc.).
3. Up/Down Movement Indicator:
Shows that the INFINITI controller may be used to move up or down on the screen and select more options.
4. Screen Count:
Shows the number of menu selections available for the current menu, even if they are on multiple pages (for example, 1/9).
5. Footer/Information Line:
Provides more information (if available) about the menu selection currently highlighted (for example, Cabin lighting when unlocking doors).
See also:
Vehicle security system
The vehicle security system provides visual and audible alarm signals if someone opens the doors, liftgate or hood when the system is armed. It is not, however, a motion detection type system that ...
Suggested maximum speed in each gear
Downshift to a lower gear if the engine is not running smoothly, or if you need to accelerate. Do not exceed the maximum suggested speed (shown below) in any gear. For level road driving, use the hig ...
Towing a trailer
Your vehicle was designed to be used to carry passengers and cargo. INFINITI does not recommend trailer towing, because it places additional loads on your vehicle's engine, drivetrain, steering, braki ...