Behind the wheel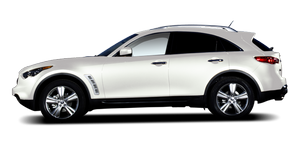 The EX's 297-horsepower, 3.5-liter V-6 engine was pure joy to drive. The all-wheel-drive EX had the perfect balance of sporty and responsive acceleration, informative road feedback and stability while cornering over mountain passes. The kicker is that there's also enough softness in the suspension to be comfortable for me both as a daily driver and for long road trips. I experienced no fatigue even after hours in the EX. I even found myself creating extra errands. (What? Our spice cabinet is all out of Spanish saffron threads? I'll run out to the specialty spice market to pick some up, you know, just in case we decide to whip up some paella later tonight. No, really, it's OK. You can stay home and help the kids with their homework. I'll be fine.)
One downside is the EX35's larger-than-expected, 36-foot turning circle. The rear-wheel-drive version's turning diameter is slightly smaller, at 34.8 feet. I had to execute a three-pointer every time I pulled into my garage. Because the EX drives so much more like a car than an SUV, my subconscious expected a tighter, more carlike turning circle — and gas mileage. Getting an estimated 17/24 mpg city/highway, the EX isn't exactly a green- or budget-conscious option.
See also:
What Is It?
Infiniti's first crack at the in-house tuner idea. IPL stands for Infiniti Performance Line, the company's new performance subbrand. The IPL differs from good old Gs in that it has a more aggressi ...
Warning/indicator lights and audible reminders
...
Remote keyless entry system
WARNING The Intelligent Key transmits radio waves when the buttons are pushed. The FAA advises that the radio waves may affect aircraft navigation and communication systems.Do not operate the Intelli ...