Language / Units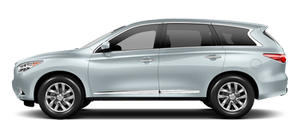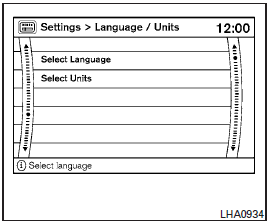 Use the INFINITI controller to select the "Language/Units" key. Select which setting you want to change using the INFINITI controller.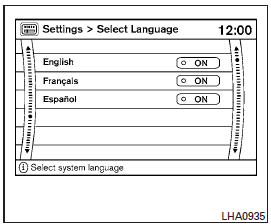 Select Language:
Select the "English" key, the "Français" key or the "Español" key to change the language shown on the display.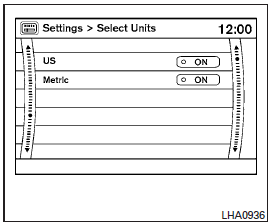 Select Units:
Select the "US" (mi, °F, MPG) key or the "Metric" (km, °C, L/100 km) key to change the units shown on the display.
See also:
How to use the STATUS button
To display the status of the audio, climate control system and fuel consumption, press the STATUS button. The following information will appear when the STATUS button is pressed multiple times: ...
Aluminum alloy wheels
Wash regularly with a sponge dampened in a mild soap solution, especially during winter months in areas where road salt is used. Salt could discolor the wheels if not removed. CAUTION Follow the dir ...
Automatic transmission fluid
When checking or replacement is required, we recommend an INFINITI retailer for servicing. CAUTION • Use only Genuine NISSAN Matic S ATF.Do not mix with other fluids.• Using automatic transmission f ...