Clock settings (models with navigation system)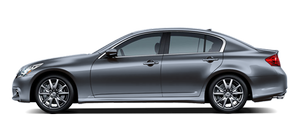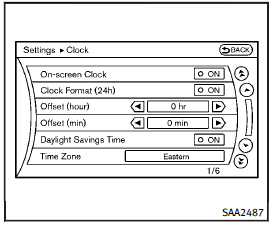 Clock settings (models with navigation system)
The display as illustrated will appear when pushing the SETTING button and selecting the "Clock" key.
On-screen Clock:
When this item is turned to ON, a clock is always displayed in the upper right corner of the screen.
This clock will indicate the time almost exactly because it is always adjusted by the GPS system.
Clock Format (24h):
When this item is turned to ON, the 24- hour clock is displayed. When this item is not turned to ON, the 12-hour clock is displayed.
Offset (hour)/(min):
Adjust the time by increasing or decreasing per hour or per minute.
Daylight Saving Time:
Turn this item to ON for daylight saving time application.
Time Zone:
Choose the time zone from the following
• Pacific
• Mountain
• Central
• Eastern
• Atlantic
• Newfoundland
• Hawaii
• Alaska
See also:
To turn system off
Push the OFF button. ...
Personal lights (Sedan)
Rear Push the button as illustrated to turn the light on or off. ...
3rd row seats
The 3rd row power folding seat controls are located behind the 2nd row seat (both the driver's and passenger's side) on the 3rd row cup holder console 1 . There are also controls located o ...